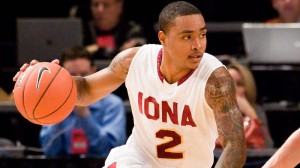 The comings and goings of Metro-Atlantic Athletic men's basketball.
Lamont Jones balances family, NBA hopes closer to home
You can get from New Rochelle to Harlem in 25 minutes. Head to the station off North Ave, just over a mile from Iona's campus, and catch the Metro North train heading south to the city, which rides the tracks past fence-topped, stone-slab walls and the stops dotting southern Westchester County until it skims through the Bronx and across the East River, turns down Park Avenue, and settles above East 125th Street. From there, it takes another 15 minutes to walk west to St. Nicholas Terrace, where Lamont "MoMo" Jones grew up, and 15 to walk south to see his grandmother.
This is an easy trip, which is important to Jones, and a big reason why when he left the Pac-12 showcase of Arizona last summer to play closer to home, he settled on a school of roughly 3,200 students in the suburb that served as setting for The Dick Van Dyke Show.
Q & A with Jimmy Patsos
After guiding Loyola to its first NCAA tournament appearance since 1994, life has been undeniably good for Greyhounds coach Jimmy Patsos.
Between speaking engagements, playing in charity golf tournaments and making the occasional radio or television appearance, Patsos has been a busy man since the Greyhounds fell to Ohio State in the second round of the NCAA tournament. But basketball has remained the No. 1 priority, and there's plenty of optimism on Cold Spring Lane for another big year.
Bracket announced for 2012 Old Spice Classic
The bracket for the 2012 Old Spice Classic – held Thanksgiving weekend, Thursday, Friday and Sunday, Nov. 22, 23 & 25, at HP Field House at ESPN Wide World of Sports Complex near Orlando, Fla. – has been confirmed for the eight teams competing: Clemson, Davidson, Gonzaga, Marist, Oklahoma, UTEP, Vanderbilt and West Virginia.
Hasbrouck to play in Italy's top league
Kenny Hasbrouck has confirmed with 4guysinblazers that he has agreed to play with Virtus Bologna of the Italian Lega Series A for the upcoming season.
Bologna is one of the most storied teams in Italian basketball. Beginning play in the 1920s, Bologna has won 15 National League titles to go with 8 Italian Cup Championships. In addition to these Italian honors, and perhaps more impressive, Bologna has won two Euroleague Championships (1998 and 2001). An annual competition between the top clubs in Europe, Euroleague is essentially the basketball version of the UEFA Champions League in soccer. NBA star Manu Ginobili and former Siena great Doremus Bennerman are among notable players to have played for Virtus.
Alex Franklin to play in German BBL
Former Siena Saint Alex Franklin is headed to Germany to continue his professional basketball career. He will play for the Fraport Skyliners based in Frankfurt, Germany in the Basketball Bundesliga (BBL), Germany's top league. This is the same league where former Siena team mate Kenny Hasbrouck played last season with EWE Baskets.
Questions, answers for upcoming season
The MAAC should be a league former NFL commissioner Pete Rozelle would love … one full of parity. And, much of that will be near the top. Loyola and Manhattan look like, from here, to be the early front-runners. But, Siena, Niagara, Iona, and even, possibly, Canisius won't be too far behind. The guess here, though, is Loyola, which lost two very good role players from a year ago but appear to have decent replacements.
Rakim Sanders signs Maccabi Tel Aviv
FAIRFIELD, Conn. — Forward Rakim Sanders will continue his basketball career as a professional after signing a contract with Maccabi Tel Aviv. Sanders signed the deal after playing in the NBA Summer League with the Golden State Warrors.
Jermaine Johnson signs NLI to join Canisius
Canisius College men's basketball coach Jim Baronannounced today that Jermaine Johnson (Stone Mountain, Ga.) has signed his National Letter of Intent and will join the Golden Griffins for the 2012-13 season.
"We are excited to add Jermaine to our program," Baron said. "We like his speed and his ability to handle the ball, and he's not afraid to work hard, both on and off the court. This is the kind of student-athlete we are looking to add to our program here at Canisius."
Coach's Corner with Steve Masiello
As phase three of recruiting gets underway I will begin my journey in Orlando. I made it to JFK Airport in record time this morning only to experience a 90 minute wait in the security line! But with that in the past it is on to Disney where I will lock in on several of our top priority recruits.
Billy Baron joins Canisius
Canisius College head men's basketball coach Jim Baron announced today that his youngest son, Billy Baron, has submitted the necessary paperwork to enroll at Canisius and has been accepted into the College, effective immediately. Additionally, Canisius' waiver to allow Baron's immediate eligibility for the fall of 2012 has been granted by the NCAA, meaning the 6-foot-2, 195-pound guard will have two years of eligibility remaining, starting in the 2012-13 season.
Uniform update – Billy Barron will wear number 12 this season for the #Griffs. #maachoops

— Griffs_MBB (@Griffs_MBB) August 20, 2012
Baron takes part in Camp Good Days event
Canisius College men's basketball coach Jim Baron again took part in the 29th annual "Tournament of Love" to benefit Camp Good Days and Special Times June 5 at the Monroe Golf Club in Pittsford, N.Y. Baron has been a part of this special event for more than 20 years.
Former Bronc, Thompson, ready to embrace his role with Sacramento
Jason Thompson's decision to re-sign with the Kings this month wasn't breaking news nationally. But then again, most of Thompson's basketball career hasn't been about him making headlines. On a team full of what coach Keith Smartdescribes as alpha males trying to define their place atop the team hierarchy, Thompson prefers simply to fit in and do the little things not associated with star players.
Top returning players John Templon (@nybuckets) had a great article on the top players in the MAAC. You can find ithere. I was going to post my top players after my team previews, but I thought I'd take a crack at listing my MAAC top returning players now. I did not include any newcomers, as I will make a seperate list for them. Any stats I mentioned I got from statsheet.com and include only MAAC conference games. Here we go:
Big Apple Buckets Top 10 This league is a lot tougher because of all the turnover and transfers coming in. There is no dominant team, so six of the 10 teams probably think they have a legitimate shot at winning the title. There's also the pesky problem of transfers that aren't eligible immediately or might not be eligible at all this season. I'm leaving those players off my Top 10 for now, but I'd certainly be willing to consider them in the future.
What is the best NYC program of the past 50 years? ESPN has concluded its 50 in 50 series. Of course, in order to figure out the Top 50 teams the stats department had to rank every team that played at least 15 seasons of Division I basketball during that time period (309 total). The comprehensive rankings were justtweeted out by Brett Edgerton. The best New York City mid-major during the past 50 years was…
Dezouvre, Glover sign professionally in Europe
NEW ROCHELLE, NY – Iona College men's basketball alumsRandy Dezouvre and Mike Glover have signed professional contracts to continue their athletic careers in Europe. Dezouvre will spend the 2012-13 season in Denmark, while Glover will compete in Turkey. Both performers have already reported to their respective team's training camps.  Read more…  
  Did You Know? – Former #Griff Johnny McCarthy was the 1st player in NBA history to score a triple-double in his 1st NBA playoff game? — Griffs_MBB (@Griffs_MBB) August 24, 2012
Former Greyhound Walker signs pro contract in Greece 
Former Loyola University Maryland forward Shane Walker has signed a professional contract with AS Apollon Patras and will begin his career this week in Greece's A1 League.
Walker, who graduated with his degree in communications in May, helped lead the Greyhounds to the NCAA Tournament for just the second time in school history. He was the only player to start all 33 games for Head Coach Jimmy Patsos and averaged 9.0 points and 6.3 rebounds per game as a senior.
Congrats to Shane Walker '12 for signing pro contract in Greece w/ Apollon Patras! bit.ly/NVht62 #maachoops #gohounds

— Loyola Men's BKB (@LoyolaMBB) August 20, 2012
Rothstein files: Masiello, Manhattan look like MAAC favorites
Steve Masiello is the ultimate Rick Pitino disciple. Ask him the best place to eat in the the five boroughs and he'll rattle off a list of options within a matter of seconds. Inquire about where he gets his suits and he'll send you an immediate text filled with the contact information of the best tailor he knows within driving distance. Masiello, who was an assistant under Pitino for six years at Louisville, once told me he planned to incorporate 99.9% of what he learned from his mentor into his own program.
Rider to host Stony Brook in ESPN Tip-Off Marathon
LAWRENCEVILLE – For the second season in a row, the Rider University men's basketball team will be part of the ESPN 24-hour marathon of college hoops, hosting Stony Brook University at 6am on Tuesday, November 13 in Alumni Gymnasium. The game, part of the fifth annual Tip-Off Marathon, will be televised live on ESPN and available on ESPN3. Read more…
Marist to open Old Spice Classic against West Virginia
POUGHKEEPSIE, N.Y. – The Marist men's basketball team will meet new Big 12 member West Virginia in the opening game of the Old Spice Classic, which will take place on Thursday, Nov. 22 – Thanksgiving Day – at noon. This game will be televised on ESPN2, and is the first of 12 that will be played over a four-day span at the ESPN's Wide World of Sports Complex in Orlando, Fla. West Virginia is coming off of a 19-14 season and a bid in the 2012 NCAA Tournament. A perennial power in the Big East, West Virginia will be joining the Big 12 Conference for its first official season this year. Read more…
Niagara announces 2012-13 non-conference schedule
NIAGARA UNIV., N.Y. – Niagara men's basketball head coach Joe Mihalich has announced the non-conference schedule for the upcoming season. The Purple Eagles will face another challenging schedule with road dates at St. Bonaventure, Buffalo and Notre Dame while hosting an in-season classic. "I always say that your non-conference schedule should sharpen your teeth for conference play," Mihalich said. "This is exactly the non-conference schedule we need; great home games, big names, and a challenge every night."
St. Peter's wraps up busy summer recruiting season 
Saint Peter's University Coach John Dunne and his assistant coaches have wrapped up a busy summer basketball recruiting season in Jersey City. Their work will impact the program for the next five years, including the upcoming season. In a year where SPU will graduate up to six seniors, it appears that there is plenty of promise in the new 2013 class. Read more…
Griffs get another guard Add Dominique Raney to the crowded Canisius backcourt. The junior college transfer was on campus Monday and is expected to receive one of the Griffs' two remaining scholarships. Raney was listed as a freshman last year at Navarro College. His numbers weren't great — 3.7 points and .77 assists per game — but ESPN recruitingscored him an 85, which is the highest a Canisius recruit has been rated since the scores started in 2006. The highest any Griff had previously been scored was an 80, given to both Alshwan Hymes and Chris Manhertz (Freddy Asprilla has four stars but score). Read more…
Iona lands big-time recruit Norvel Pelle  Quite possibly the most highly rated recruit to ever join a MAAC program will be playing at Iona this season. That would be Norvel Pelle, a big man in (according to his brother) from the Kevin Durant mold. How big? Pelle is listed, in news reports as either 6-foot-9, 6-10, 6-11 or 7-0. He definitely is tall, and certainly Durant-lanky at a reported 210 pounds. And, his game begs the comparison … a tall athlete who runs the court and does his best work shooting from the perimeter. Read more…
To echo everyone else out there. Norvel Pelle to #ICMBB… Wow. IF he's eligible he and Laury put Iona right back in MAAC title hunt. — John Templon (@nybuckets) August 22, 2012
McCarthy had 13 pts, 11 rebs and 11 assists vs. Minneapolis on March 16, 1960. @magicjohnson and @kingjames have also done this as well.

— Griffs_MBB (@Griffs_MBB) August 24, 2012

Got anything to add to the Press Break? Pleas post it in a comment.