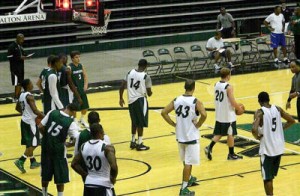 Courtesy of Charlotte49ers.com. 
Charlotte, N.C. — Charlotte 49ers men's basketball announced that 6-3 guard Shawn Lester (Mooresville, N.C./Mooresville) will enroll in UNC Charlotte this fall but will not be eligible to compete during his freshman year of 2012-2013.
"We are extremely excited that Shawn will be with us on campus this year," said 49ers head coach Alan Major. "He will focus on academics and becoming a successful student here at Charlotte. In addition, he will use this year to improve his game in preparation for our return to Conference USA."
The Charlotte 49ers will head off on a preseason trip to the Bahamas this week. The 49ers will play two games during the week-long trip, on Tuesday and Thursday. Lester, who is not eligible to practice with the 49ers, will not be on the trip.