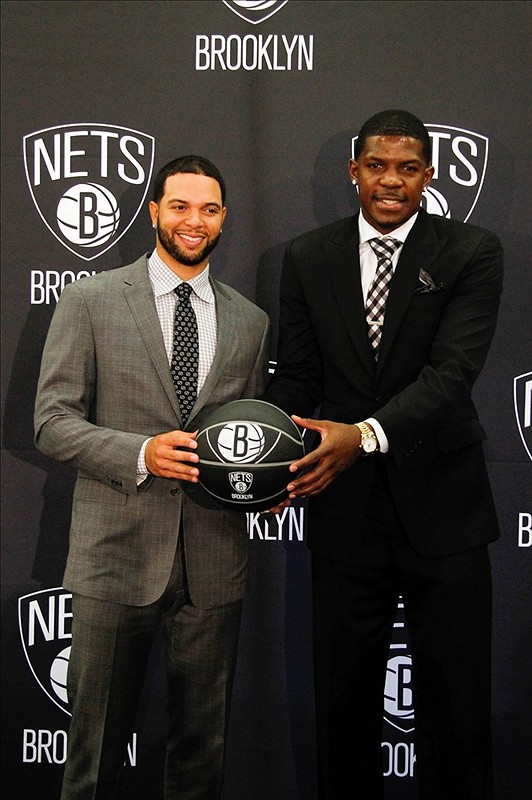 "The Brooklyn Nets new advertisements are merely distractions designed to keep their fans hopeful – hopeful for successes that the Nets franchise has evaded since their inception." 
By Joe Manganiello
The New Jersey Nets franchise joined the NBA in the 1976-77 season, after winning two championships in the ABA led by the Doctor, Julius Erving. Since joining the NBA, they have had just 13 winning records in 35 years, with an 89-96 record in post-season play and no NBA championships.
To put that in perspective, the San Antonio Spurs joined the NBA the same season but have 27 winning records over the same span. The Spurs also have 170 post-season wins and four NBA championships. Yes, getting blessed with franchise defining players like David Robinson, Tim Duncan and Tony Parker helps. At a certain point, however, the losing is what defines a franchise, not the players.
Some lowly franchises change their fates by compiling draft picks and rebuilding with young talent, like the Oklahoma City Thunder. Some team's just get lucky, and land a star with the number one overall pick, such as the Chicago Bulls and the Los Angeles Clippers. Other franchises whose struggles can be measured in decades not seasons save money and make large pushes for big talents. This is the route the now Brooklyn Nets have taken under new age owner, Mikhail Prokhorov.
After failing to land LeBron James or Dwyane Wade in the summer of 2010, Prokhorov worked a trade with the Utah Jazz to land star point guard and current Team USA member, Deron Williams. With a young roster lacking discipline or playoff experience, the Nets failed to make the playoffs in their first two seasons with Williams, and with Williams' contract set to expire, the Nets organization entered full scramble mode over the past few months in order to convince their best player to stay in a Nets uniform.
The Nets went to such lengths as to trade their 2012 first-round pick, which became the number six overall selection, to acquire forward Gerard Wallace, in order to appeal to Williams before entering his free agent negotiations. The Nets also trudged themselves neck-deep in the Dwight Howard circus, as it became no secret the Nets were willing to trade anyone on the roster not named Deron Williams to help land the league's best center in Brooklyn.
Once it became evident that A) Dwight Howard was not getting dealt ANYTIME soon and B) the Nets needed to add another star player or else they would lose Williams to Dallas, Brooklyn traded five expiring contacts and a future first-round draft pick to Atlanta to pry away six-time all-star Joe Johnson.
Deron Williams signed with Brooklyn the very same day.
And with that decision by Williams, the rest of the Brooklyn off-season came together very nicely. With the exception of the occasional "Dwight Howard to Brooklyn trade rumor – this time Brooklyn is offering Prokhorov's house AND yacht," the Nets have simply gone about their business.
The Nets have "reinvested" in their relationship with their 7-foot-2 center Brook Lopez. They re-signed their double-double machine, Kris Humphries, to a respectable two-year deal. They also added veterans like Jerry Stackhouse, Reggie Evans, C.J. Watson and kept promising young guards MarShon Brooks and Tyshawn Taylor.
Prokhorov has been so pleased with himself and his new look Nets, he has launched an advertising campaign as cocky as the Russian owner himself. He is introducing a "Hello Brooklyn" marketing campaign, which features the teams "Core Four" as Deron Williams, Joe Johnson, Gerald Wallace and Brook Lopez. The advertisements give the players a platform to "build a connection between Brooklynites and the players" and "to share something about themselves in advance of their debut at Barclays Center," said CEO Brett Yormack.
Examples of some of the "Hello Brooklyn" ads were leaked to ESPN on Monday, and they look something like this:
"Hello Brooklyn. I'm #8, Deron Williams, three-time NBA All-Star and father of four."
"Hello Brooklyn, I'm #7, Joe Johnson, six-time NBA All-Star and lifelong Razorback."
"Hello Brooklyn, I'm #11, Brook Lopez, 20-point scorer and Batman's biggest fan."
"Hello Brooklyn, I'm #45, Gerald Wallace, All-NBA Defender and offseason fisherman."
In an attempt to further inform the Nets fan base on what their '12-'13 team will look like, I decided to make up a few advertisements of my own. I find these advertisements to be a bit more honest and "to the point" with a fan base that, quite frankly, has been misled in the past. While the move to Brooklyn may be long over due and the addition of new talent is always welcomed, the fans should be informed of exactly what they have before they consider themselves the favorite in the East.
"Hello Brooklyn, I'm Deron Williams… and I don't want to be Allen Iverson."
Although Iverson is a sure-fired hall-of-famer and among the greatest scorers the league has ever had, we all know what it means when a point guard is compared to Iverson or even mentioned in the same light as Iverson. The point guard, obviously, must be shooting the ball way to much.
Williams, who entered the league as the heir to John Stockton in Utah (at least in spirit) and for Jerry Sloan's historic, pick and roll offense, was praised for his well rounded game even as a rookie. Between the '06-'07 and '09-'10 seasons, Williams never averaged less than 9.3 assists per game, or more than 3.4 turnovers per game, or shot under 45% from the field. His discipline as a bigger point guard – like Chauncey Billups and Jason Kidd before him – was as well regarded as any up-and-coming player in the league at that time.
But his relationship with the legendary Sloan grew sour over the years, as the Jazz could not seem to get passed the Lakers or Spurs in the West, and Sloan's quest to win his first NBA title became more and more unlikely. By the '10-'11 season, the two sides had had enough, and so had the Utah franchise. On February 7, 2011, Sloan resigned from a position he had held for two decades, and by February 23 that same month, Williams was dealt to New Jersey.
Once Sloan resigned, public perception of Williams seemed to become mostly negative, as he was allotted most of the blame for Sloan's blemished exit from Utah. But beyond the blame from pro-Sloan critics, a lot of questions began surfacing about Williams' overall skill level and ability as a member of the Nets. This past season, Williams averaged the lowest number of assists per game (8.7 apg) since his rookie season, while turning the ball over at a career-worst rate (4.0 tpg) and attempting 17.5 shots per game, the ninth-highest rate in the league. In 67 games with the Nets, Williams is averaging 3.9 turnovers per game, while shooting under 40% from the field and shooting under 33% from three-point range. Allen Iverson only failed to shoot under 40% from the field, 33% from three-point land, while committing over 3.9 turnovers per game twice in his entire career.
Also remember that Iverson, noted for his determination and fearlessness (and a particular catch phrase involving the act of practicing), led the 76ers in 62 playoff games and to an NBA finals appearance in 2001. Williams has been to one conference finals, which ended in five games to the title-bound Spurs in an embarrassing 25-point defeat. His post-season record is just 20-24 in four appearances.
While Williams has unmistakable ability, it is unclear if he has the poise to lead the Nets where Doctor J went during his ABA days as the franchise's best player. It is uncertain if Williams even has the poise to dethrone Kidd as the franchise's best point guard. Williams will be forced to answer these questions, however, as he now has the most talented supporting cast of his NBA career, coupled with the most pressure to win.
"Hello Brooklyn, I'm Joe Johnson… and I will try not to be the franchise's next Vince Carter."
This ad would probably need a little fine tuning for a national audience, but something tells me Nets historians will know exactly what I am getting at.
The Nets had a future hall-of-fame point guard in their not-to-distant past who needed talent around him in order to stay. Jason Kidd, who led the team to 78 playoff games (42% of the franchises total NBA playoff games) between 2002 and 2007, including two trips to the NBA finals. Over his first three seasons in New Jersey, Kidd made the Nets the best team in the Eastern conference.
But when Richard Jefferson went down with a season ending injury in 2005, the Nets knew they had to add a splash to the roster to remain relevant and so they were able to pry Vince Carter, at the height of his powers, away from Toronto for a reasonable package of NBA veterans and first round picks.
The Jason Kidd/Vince Carter experiment lasted four-plus seasons, and never came remotely close to the success that the pairing suggested. In total, the combination only won two playoff series, and never surpassed the second round. In fact, the combination never even had a 50-win regular season.
You can blame their struggles on the Western conference's dominance (Spurs won two titles during that span) or the strengthening Eastern conference (2006 Miami Heat and 2008 Boston Celtics won titles – using former star players from the Western conference: Shaq, Kevin Garnett, Ray Allen) if you'd like. Either way, what is clear is that Vince Carter's career is among the most disappointing and misleading in NBA history.
If Joe Johnson thinks he can avoid entering that same category, he might first want to realize that he has half (MAYBE half) of the talents that Vince Carter was blessed with during his twenties. Carter was selected to eight all-star games between '99-'00 and '06-'07, but he had the other worldly talent to fit that bill. Carter averaged at least 22 points per game in every season but one during his eight consecutive all-star appearances, with the injury-plagued '02-'03 season providing a slight drop off down to 20.6 ppg. Even in that '02-'03 season, he had one of his best shooting seasons, with splits of .467/.344/.806 that year. Carter has six seasons with at least 24 ppg, twice finishing over 27 ppg, with career shooting splits of .444/.374/.798.
The Nets could not advance to the NBA finals with Vince Carter as their second-best player. I do not see how they will get there with Joe Johnson in that role. This is what Johnson will have to prove me wrong about, as he tries to validate his inflated all-star appearance totals and lack of elite scoring figures. Johnson has averaged over 22 ppg once in his career, and he has never produced a shooting season like Carter did in '02-'03. Even after four consecutive seasons without exceeding 16.6 ppg, Carter's career ppg remains at 21.4, and still far ahead of Joe Johnson's career average of 17.8 ppg.
If the two played one-on-one today, I'd still put fifty dollars on Carter to win.
The point is that the current Williams/Johnson duo is not even as good as the Kidd/Carter combination the Nets had in the mid-2000s, yet suddenly the '12-'13 Nets want to contend against teams like Miami's Big 3 or the Derrick Rose led Bulls in the East. I do not see Joe Johnson being that significant of a difference maker. But of course, that is where the Brooklyn Nets supporting cast of the century comes into play.
"Hello Brooklyn, I'm Gerald Wallace… and I am not a jinx."
Gerald Wallace has played on some talented teams and some not so talented teams. What has always been true, however, is that his team's always seem to underperform while he is on roster.
In his one season at Alabama University, the team failed to make the NCAA tournament with a 20-11 (8-8) record. For five seasons following his departure, they went to the NCAA tournament each season, going to the Elite 8 in '03-'04 and averaging 9.5 conference wins per year.
Drafted by the Sacramento Kings in 2001, the Kings won 61 games in his rookie season but lost in the conference finals on a game-winning shot by Lakers forward "Big Shot" Rob Horry. The next two seasons they lost in the second round, despite averaging 57 wins a season.
Wallace hit free agency following the '03-'04 season, and was selected in the expansion draft by the newly formed Charlotte Bobcats. In six-plus seasons, the Bobcats had just one winning record with Wallace, and although they made the playoffs in '09-'10, they promptly got swept in the first round by the Orlando Magic. Charlotte then traded him to Portland in '10-'11, who then lost in the first round of the Western conference. That off-season, Greg Oden had yet another set back on his injured knees and 27-year-old, all-star Brandon Roy prematurely retires due to his own chronic knee injuries, setting the team into a free fall before the lockout-shortened season. The Trailblazers missed the playoffs this year for the first time since '07-'08.
The Trailblazers, as we know, did not finish the season with Wallace, as they sent him to the Nets with 22 games left in the season. The Nets were only 4.5 games out of the final playoff spot in the East, and thought Wallace might put them over the top of the sinking Knicks and 76ers. Instead, they finished the season 7-15 and finished a ghastly 13 games out of the playoffs.
Wallace is very talented and is noted for his defensive instincts and hustle. It would seem that you could not win a championship without a player like Wallace. And yet, it also seems like no one could ever win a ring with him.
"Hello Brooklyn, I'm Brook Lopez… and I am not just a broken foot who cannot rebound."
Brook Lopez has above average athleticism, which allows him to score the basketball at a pretty impressive rate. With a career 50% shooting percentage, Lopez's career points per game is 17.4, with a career-high of 20.4 ppg. Lopez can block shots (career average is 1.6 bpg) and shoot foul shots surprisingly well (career percentage is .796) for a man of his size.
But this past season, he broke his right foot, joining a long list of big men with foot issues, most of whom unfortunately never were able to return to form following the initial injury.             After missing 32 games last season, an ill-advised return netted him a twisted ankle on the same foot, forcing him to shut down all basketball related activity for the remainder of the season. While it is not fair to label him as a "broken foot," that is the business that 7-footers enter into. We judge them by their health. Shaq only became Shaq because nobody ever stepped on his right foot hard enough to fracture it. Dwight Howard is a staple on the 1st team All-NBA every year because he has been on the floor every season, and that is why his current back issues are worrying any and all GM's interested in breaking the bank to acquire him.
And let's assume Lopez returns next season fine. It still does not fix an issue that seems irreversible unless there is an absolute mental overhaul within Lopez's basketball IQ; the man cannot rebound.
Yes, I am well aware that he averaged 8.6 rebounds in '09-'10. So did Luis Scola that season, and he is listed at 6-foot-9 and has the body of a sea-lion. Zach Randolph finished third in the league that season with 11.7 rpg and he is 6-foot-9 and a whopping 260 pounds; Randolph is certainly not "tree-like" in the post.
Lopez has the frame to average 12 rebounds a season for a decade. He currently averages 7.5 rebounds per game. That's less than the 6-foot-8, former second-round pick Paul Millsap has averaged over the same span, as he has pulled down 7.9 boards a game since '08-'09. Lopez will have to pull down more rebounds in order to silence critics and put an end to all the trade rumors involving the Nets replacing him at center long-term.
Hello Brooklyn, our team is suddenly much better, and we would love for you to support our up-and-coming, new roster as we try to get back to the top of the Eastern conference.
No, on second thought, that last one is not all that catchy. Let's tell them more about Brook Lopez's favorite comic book heros. That will make them believe we are finally going to be winners again.