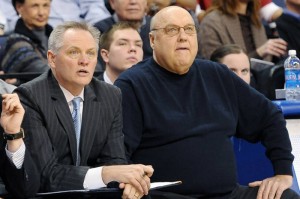 ST. LOUIS – Saint Louis University head men's basketball coach Rick Majerus announced today that Jim Whitesellhas been promoted to associate head coach.
"It is with my admiration, appreciation and respect for Jim Whitesell's coaching talents and prowess that I am pleased to announce him as associate head coach," Majerus said. "Coach Whitesell has earned the players' respect and trust by virtue of his hard work, dedication and genuine concern for their well-being off the court, as well as on it.
"I have every confidence in Jim to function as my associate in every facet of the program. I have had only one prior associate head coach in my coaching career, and Jim brings all of the attributes that make this a win/win for Saint Louis University, the coaching staff, the players and myself."
Last season marked Whitesell's first on the Billiken sideline as assistant coach. After being on campus for just a few months, he was charged with leading practice and on-court coaching during the Billikens' summer trip to Canada, which set the stage for a banner year. The Billikens went 26-8 last season, capturing the second-most wins in program history, and made the program's first NCAA Tournament appearance since 2000.
"One of the main reasons I came to Saint Louis University was the opportunity to work with coach Majerus, and I am thrilled about this opportunity," Whitesell said. "I am lucky to work with the tremendous coaching staff we have in place. We are excited about the players we have coming back and the players coming in, and we'll work tirelessly to bring the great Billiken fans another exciting season. My wife Connie and I are thankful to be part of the Saint Louis University and St. Louis communities."
Whitesell is a 24-year head-coaching veteran, having most recently served as head coach for seven seasons (2004-11) at Loyola Chicago. He guided the Ramblers to 109 victories in seven seasons, including a 21-win campaign in 2006-07, which has been Loyola's only 20-win season since 1985. In addition to their on-court success, Whitesell's teams have excelled in the classroom. The NCAA publicly recognized Loyola for four consecutive years (2006-10) for earning multiyear Academic Progress Rates (APR) in the top 10 percent of all squads in men's basketball.
Prior to his time with the Ramblers, Whitesell was head coach at Lewis (Ill.) University (1992-2004) and Elmhurst (Ill.) College (1987-92). He holds a career record of 387-301 in 24 seasons.
With Majerus, Whitesell and assistant coach Jim Crews, the Billiken coaching staff has 73 years of head-coaching experience and 1,258 career victories. Other additions to the Billiken men's basketball staff will be announced next week.