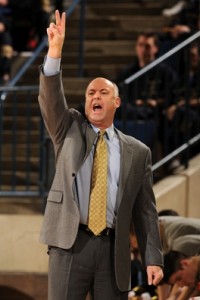 ANNAPOLIS, Md. — Navy men's basketball head coach Ed DeChellis sat down with NavySports.com for a postseason Q-and-A session earlier this week to discuss all things Navy Basketball.
NavySports.com: In your opinion, what is the state of Navy Basketball after being here for a year?
DeChellis: I like the direction we are headed, but it's going to take some time and be a process. It's a process to build a program and we are in the process of laying down the foundation as we speak. We just need to continue to work hard
and keep getting better.
NavySports.com: You had a really young and somewhat inexperienced team last year. Are there any positives from having a young team as you move forward in shaping the program?
DeChellis: I think the positives are that you have kids that get a year older, a year to mature and develop and players that have a year under our system. They have a year under their belts so they have a year of understanding how we do
things. The year of maturity will help a great number of guys to hopefully become better basketball players. But we are going to be young again in 2012-13 and young again in 2013-14. We are going to count on the players we bring in to hopefully be part of a great foundation. I think until we get our class size straightened out in a sense where we have 4-5 players in each class, we aregoing to be a young team. We will have a different kind of young next year in that we will have guys that have a year in our system.
NavySports.com: With the returnees, do you feel that they have a grasp of your systems and how you ultimately want to play?
DeChellis: The returning guys have a grasp for what we are trying to do. From how hard we have to work in individual workouts, to our skill development program and how we have to get better to what our practice structure is like and
what we expect during practice. They know about our game preparation and the mental part of preparation in understanding how much emphasis we put on film breakdown and power-point presentations on each team we prepare to play. Our kids have a much better grasp of what we're all about as a team than they did last year.
NavySports.com: How do you think your first year as a service-academy rookie went and how well did you acclimate yourself to the Academy?
DeChellis: I love the Academy. I love the mission and everything about it. We've had to as a staff really mold and bend what we would like to do basketball-wise because of the structure of the Academy. We have always had to structure
academically, but now the third component is the military aspect. We have structured everything to give our guys the opportunity to be successful in basketball, in academics and in their military obligations. We have been very
flexible and have bent to structure things so they have an opportunity to be successful in all three aspects.
NavySports.com: I know you can't talk about specific recruits, but how has recruiting gone and how receptive have recruits been to you and the staff?
DeChellis: I think recruiting has gone well for us. We have been able to recruit several players that we expect to make an impact. Any program wants to increase their recruiting every year and that is how your program gets better
every year. That is not a knock against our current players or program, but you always try to get a better-caliber player. So forth, we have been able to secure some very good players this year, both skill-wise on the court and academically,
we have recruited outstanding students that can represent the Academy in a fine fashion. We have recruited kids that want to serve their country and embrace the military aspect as well. We have done very well. We aren't certain on the exact number, but we have a quality class coming in.
NavySports.com: The Patriot League obviously had a lot of success in the postseason with Lehigh winning an NCAA Tournament game and Bucknell winning an NIT game. How significant are those results for the Patriot League?
DeChellis: I think its a great thing for the league. When Lehigh can go to the tournament and beat a high-powered team like Duke and Bucknell can play a high-powered program at Arizona, both on national television, and both win, it says great things about the Patriot League and what we are all about. This is a very good basketball league with very good coaches with high-level  skilled players. On any given night on a neutral floor, we can beat anyone in the
country. It's a positive thing for the league and all other programs in the league. Hopefully, we can all get better now. That is the measuring stick for the rest of the teams now. We are trying to get there.
NavySports.com: What are you looking for from the squad during the offseason and the upcoming summer months?
DeChellis: The spring season has been full of individual and small-group workouts. We are trying to help our kids improve skill-level wise and to also compete in small-group workouts. After school is over shortly here in May, they
have a military obligation to commit to, and then they will come back in mid- June, take a summer-school class and work out here on campus in our strength and skill-level programs, be around each other, play pick-up games every day
and be the family that we want to be. Hopefully the upperclassmen will embrace the plebes once they arrive on campus and help them through plebe summer. We hope for a productive rest of spring and summer, which will lead us back
into the academic year when we kick off the 2012-13 season.
Click here to listen to the podcast of this interview.
# GO NAVY #