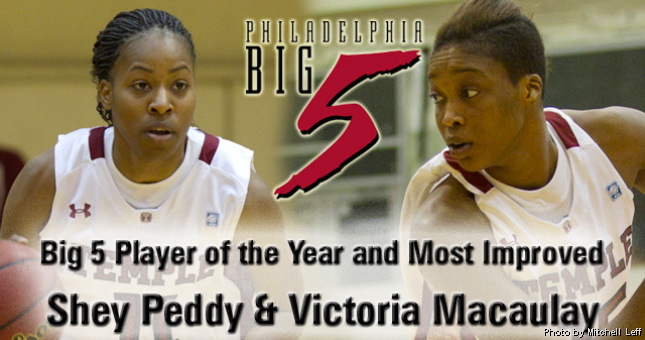 PHILADELPHIA – For a second straight year, Shey Peddy has earned Big 5 Player of the Year honors. The annual Big 5 Women's Basketball Banquet will be held April 25 at Drexelbrook in Drexel Hill, Pa. Also taking home an individual honor is Victoria Macaulay, earning the Big 5 Most Improved award.
Villanova was the outright champion of the Big 5 this year, with Temple coming in second at 3-1 overall. Wildcats' coach Harry Perretta was named the Big 5 Coach of the Year.
Peddy has been named to the Big 5 First Team, while Macaulay and Kristen McCarthy are earning Big 5 Second Team honors. McCarthy is also one of five honorees to the Big 5 All-Academic Team.
Joining Peddy on the First Team is Alyssa Baron (Penn), Laura Sweeney (Villanova), Brittany Wilson (La Salle) and Michelle Baker (Saint Joseph's). The three Second Team honorees along with McCarthy and Macaulay are Alexis Scott (La Salle), Lauren Burford (Villanova) and Kelly Cavallo (Saint Joseph's).
Peddy, also the Atlantic 10 Player of the Year and Atlantic 10 Defensive Player of the Year, was the team and conference leader this season with 17.6 points per game. She averaged 3.1 steals per game to lead the team, rank second in the A-10 and 17th among all players in NCAA Division I. Peddy finished her career with 1,876 points overall including 1,025 in just two seasons at Temple to rank 17th all-time in career scoring.
McCarthy, also an A-10 Second Team honoree for a second straight year, ranked second on the team with 12.6 points per game this season. She finished her career ranked fourth all-time at Temple in scoring with 1,619 points, and played in 131 games which is the most of any player in the history of the program.
Macaulay finished the season ranked seventh among all players in the A-10 with 7.5 rebounds per game, sixth in field-goal percentage at .510 and second in blocks with 52 (1.7 bpg). With one year left as an Owl, Macaulay already ranks sixth all-time in career blocks with 120 and 24th in career rebounds with 440.
Kara Bonenberger of Penn was named Rookie of the Year after a tremendous freshman campaign in which she appeared in all 28 games for the Quakers. Bonenberger's teammate Jess Knapp received the Big 5 Sportsmanship Award.
The Owls recently concluded the season after advancing to the WNIT Third Round, making it further in the postseason than any other Temple women's basketball team in the modern era. The Owls finished with an overall record of 23-10, and went 13-1 in the A-10 to place second.