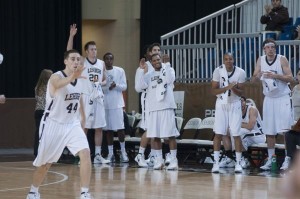 BETHLEHEM, Pa. – Following a sensational second half vs. Colgate, the Lehigh men's basketball team looks to ride the momentum Thursday night when it travels to Bucknell for a nationally-televised clash. Tipoff against the Bison (20-6, 10-0 Patriot League) is set for 7 p.m. It begins a big three-day stretch for the Mountain Hawks (19-7, 7-3) on CBS Sports Network as the squad will also host Lafayette less than 48 hours later. The matchup features two of the league's top teams as Bucknell stands first while Lehigh is tied for second.
Thursday marks the Mountain Hawks' first game at Sojka Pavilion since a heartbreaking Patriot League Semifinal loss last season. Lehigh will look to avenge that defeat along with a tough 68-61 home loss to the Bison on Jan. 18. In that game, the Mountain Hawks' starters shot a combined 14-of-46 from the field, but were still within one possession with a minute remaining. However, Bucknell made too many plays in the end in holding Lehigh to a season-low 61 points. Mike Muscala led Bucknell with 20 points and a game-high 12 rebounds, but the Mountain Hawks still held a 38-33 rebounding edge.
The Mountain Hawks have gone 5-1 since that contest to remain in the thick of things near the top of the standings. Lehigh is coming off an exciting 89-69 come-from-behind win over Colgate on Saturday. After falling behind 46-40 at the half, the Mountain Hawks outscored the Raiders, 49-23 in the second for the runaway victory. Junior C.J. McCollum led the charge with 22 points and 10 rebounds for his third double-double in his last five games. Gabe Knutson tied a season-high with 21 points; in the process, he became the 30th player in program history to reach 1,000 career points. He eclipsed 500 career rebounds as well.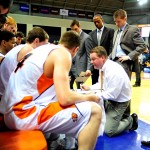 Lehigh only turned the ball over five times to tie the fewest in Brett Reed's tenure as head coach. The Mountain Hawks have gone three straight games with single-digit turnovers, and nine this season. Lehigh is just one win shy of its 20th of the season, which would mark the fourth time in school history the Mountain Hawks would reach that plateau.
The Mountain Hawks are looking to snap a four-game losing streak to Bucknell and beat the Bison for the first time since an 81-59 win on Feb. 24, 2010. Lehigh has lost four straight games at Sojka Pavilion; its last victory came on Jan. 30, 2008 via a 56-54 final. The Mountain Hawks are hoping to post consecutive wins after a defeat for the sixth time this season. Lehigh has responded from each of its past six defeats by winning six, three, three, two then four straight games.
After going 8-6 over its first 14 games, Bucknell has responded by winning 12 in a row. The Bison have been challenged in that stretch, however, with single-digit victories against Cornell, Dartmouth, Lehigh and American. Mike Muscala leads the way in both points (16.4) and rebounds (8.9) while Cameron Ayers and Joe Willman are both averaging double figures with 11.3 and 10.4, respectively. One of the Patriot League's top defensive players, Bryan Cohen, has also contributed offensively with 7.6 points and 3.5 rebounds per contest. The Bison shoot an impressive 40.5 percent from three-point range led by preseason All-League honoree Bryson Johnson, who's knocked down 60-of-149.
Bucknell holds a 94-62-1 lead in this long-standing rivalry which dates back to 1901-02. The Bison have won four in a row after a stretch when the Mountain Hawks won four-of-six from 2008-10. Lehigh won three straight from 2008-09, then again on Feb. 24, 2010 as part of the squad's Patriot League Championship campaign. Bucknell won the first-ever meeting, 38-16, while Lehigh got on the board with a 46-13 victory in 1908-09.
The Mountain Hawks will return home on Saturday for their Senior Day game vs. archrival Lafayette on CBS Sports Network. Tipoff is set for 4 p.m. Tickets for all home games may be purchased on Lehighsports.com or by calling the ticket office at (610) 7LU-GAME.
Like Lehigh Men's Basketball on Facebook for exclusive content, team updates and more: http://www.facebook.com/LehighMensBasketball
| | |
| --- | --- |
| Date: | February 16, 2012 |
| Opponent: | Bucknell Bison |
| Tip-off: | 7:00 PM |
| Arena/Capacity: | Sojka Pavilion/4,000 |
| Location: | Lewisburg, Pa. |
| Lehigh's Record: | 19-7 overall, 7-3 Patriot League |
| Bucknell's Record: | 20-6 overall, 10-0 Patriot League |
| Series: | Bucknell leads, 94-62-1 |
| Radio: | Live on ESPN Radio 1230 and 1320 AM and Lehighsports.com with Matt Kerr and Steve Lomangino. Pregame coverage gets underway at 6:30 PM. |
| Television: | CBS Sports Network |
| Internet Video: | None |
| Behind Enemy Lines: | bucknellbison.com |