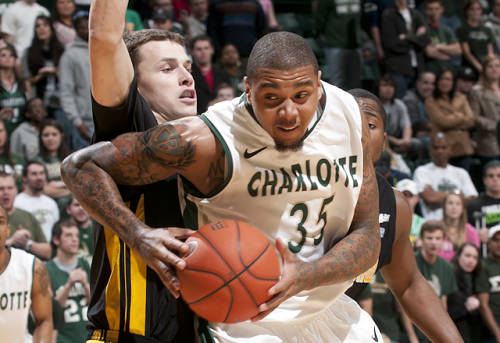 Courtesy of Charlotte49ers.com.
HALTON ARENA — Behind sophomore DeMario Mayfield's career-high 25 points, the Charlotte 49ers men's basketball team defeated Kennesaw State, 74-63 in their final non-conference game of the season. After a tight first half, the Niners (10-7) pulled away in the second frame to slip past the Owls (3-16) and pick up their fourth win of the season at Halton Arena. Charlotte has now tied last year's win total of 10.
"I knew Kennesaw State was going to come in guns blazing," head coach Alan Major said. "Their guards are really capable, night in and night out. Their record is extremely deceiving and we knew that. We had to dig a little deeper and we were able to hold them to a lower shooting percentage in the second half. That's a huge key for us moving forward, making sure that we're solid defensively."
Mayfield led Charlotte's offensive charge with 25 points on 9-for-13 shooting, including a 3-for-6 mark from three-point range. He also added three rebounds, two blocks, an assist and a steal. Senior forward Javarris Barnett and junior center Chris Braswell also reached double-figures for the 49ers. Barnett came just shy of a double-double with 13 points and nine rebounds, hitting his 100th career three-pointer and going 4-for-7 from beyond the arc. Braswell tallied 13 points and seven boards and was a perfect 4-for-4 from the foul line.
Kennesaw State rookie Delbert Love led all scorers with 26 points, including six three-pointers and 17 second half points. Aaron Anderson had a game-high 17 rebounds for the Owls.
As a team, Charlotte shot 46.7% from the field and 45% from beyond the arc, hitting nine three pointers. The Niners defense held the Owls to 39.0% shooting, including 32.3% in the second half.
The 49ers trailed by one, 34-33 at halftime in what was a tight, back-and-fourth first half. But Charlotte came out of the locker room energized and went on an 8-0 run early in the second frame to go up 47-42 with 15:07 remaining. Kennesaw State came right back with a rally of their own, in which Love scored 10 straight points for the Owls to take a four-point lead, 54-50 with 11:04 to play.
"We were lacking in intensity in the first half," Mayfield said, "but we came out in the second half and picked it up defensively."
A layup by rookie E. Victor Nickerson at the 8:47 mark gave Charlotte the lead for good, 55-54, and the Niners would lead by as many as 11 points, 70-59 as the second half wore on. Mayfield contributed to the surge with a string of eight straight Charlotte points in a stretch of 3:43.
In the first half, Charlotte got off to a 12-7 start with help from seven points from Mayfield, who had a pair of nice dunks in the game. But the Owls followed up with an 11-1 run to go up by five points, 18-13 for their largest lead of the night at the 8:31 mark.
For the rest of the frame, the two squads remained neck-and-neck with Charlotte tying the score three times in the final 4:41 of the half.
The lead shifted seven times in the game, and the score was knotted up seven times as well.
Charlotte returns to Atlantic 10 play on Saturday, Jan. 21st with a road game at George Washington. Game time is 7 p.m.
NOTES:
Javarris Barnett made his 100th career three-pointer in tonight's game. He totaled four on the evening for 102 in his career.
Mayfield tallied a career-high 25 points, reaching double-figures for the third straight game. His previous high was 17.
Chris Braswell moves into sole possession of 15th all-time in career rebounds (587)
Charlotte hit nine shots from three-point range, two shy of their season high 11 vs. UMass
Pierria Henry continues his streak of games with at least one steal (17 games)
Three Niners finished in double-figures (Barnett, Mayfield, Braswell)
Charlotte is now 8-1 when scoring 70 or more points
Derrio Green moves into 27th place all-time in career points (929), passing Delano Johnson
The 49ers have now matched last season's win total of 10
This was the third straight game in which a 49er has scored 20 or more points (Braswell: 31 at UMass; Barnett 23 vs. Saint Louis)
Freshman Pierria Henry added a career-best 7 assists.