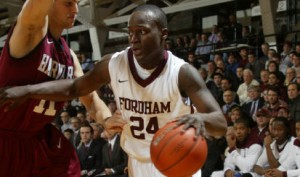 Courtesy of FordhamSports.com.
Bronx, N.Y. – Jimmy Carter was president. Gas was about 67 cents a gallon. Andy Gibb's "(Love Is) Thicker Than Water" was the number one record. What do these things have in common? They were true that last time the Fordham University men's basketball team beat a ranked opponent. But that all changed tonight as the Rams upended #22/21 Harvard University, 60-54, before a boisterous Rose Hill Gym crowd.
The Fordham win snapped a 54-game losing streak to ranked opponents stretching back to February 28, 1978 when the Rams knocked off then 18th-ranked Georgetown, 63-59, in the Rose Hill Gym.
The win, Fordham's third in a row and fourth in its last five games, brings the Rams record to 7-6 on the year while Harvard, who entered the game ranked 22nd in the latest Associated Press poll and 21st in the latest ESPN/USA Today Coaches poll, falls to 12-2.
The win closes out the Rams' non-conference schedule and gives Fordham its first winning non-conference record since the 2006-07 squad went 8-6.
"I'm really happy with how hard we played tonight," said Fordham head coach Tom Pecora. "There was a stretch in the second half where Harvard started to play a little harder but we called a time out and we regrouped. And Chris did a great job playing within himself, making veteran plays. He's an automatic double-double."
With a young team comprised of seven freshmen and four sophomores, the Rams were looking for veteran leadership earlier this year and junior Chris Gaston has stepped up his game, notching his sixth straight double-double and his NCAA-leading eleventh of the year. He finished with 18 points and ten rebounds, shooting 8-for-15 from the field.
When asked about the difference in his first half (four points and four rebounds) and his second half (14 points, six rebounds) performance, Chris Gaston said it was simple. "It was the shoes," he explained, mentioning how he changed shoes at halftime as the pair he wore in the first half were hurting his feet.
Gaston wasn't the only veteran leader tonight as senior center Kervin Bristol added seven rebounds and two blocks while senior guard Alberto Estwick nailed an early three-pointer to help the Rams stay up with the Crimson early.
Youth was also on display for the Rams with freshman Bryan Smith leading all scorers with 22 points, shooting 5-of-8 from behind the three-point line including a big three with 15 seconds left, while sophomore guard Branden Frazier tied his career-high with eight assists.
"I encourage Bryan to shoot the ball," said Pecora. "He passes up shots. At times, I don't think he realizes how good a shooter he is."
The Rams led for almost the entire second half, building their advantage to as many as ten, but Harvard knocked it down to one, 51-50, with 2:56 left. A little over a minute later, Branden Frazier hit a pair of free throws to put Fordham up three, 53-50, but the Crimson answered with a Keith Wright free throw with 1:04 left to make it 53-51.
Following a timeout, Fordham worked the ball around the perimeter and found Smith open in the corner in front of the Fordham bench and he calmly sank a three-pointer to give Fordham a 56-51 lead with 37 seconds left.
Smith then rebounded a Brandyn Curry missed three and was fouled. He nailed the two free throws to increase the Fordham lead to seven, 58-51, with 23 seconds remaining. Curry connected on a three-pointer eight seconds later but that was as close as Harvard would get as Marvin Dominique hit two free throws with 12 seconds left to seal the win for the Rams.
The game started off slowly for the Rams as Harvard jumped out to a 4-0 lead in the first minute of play but Fordham came back with four straight points, two from Gaston and two from Smith, to knot the game just over five minutes into the half.
The game would be tied twice more over the next five minutes, the final time at nine after a Frazier jumper. A Devon McMillan layup gave Fordham its first lead of the night, 11-9, with 9:19 left in the period but the Crimson used a 13-3 spurt to take their biggest lead of the night, 22-14, after a Laurent Rivard three-pointer with 4:46 remaining in the half.
Fordham worked the Harvard lead down to two, 24-22, with a 10-2 run, capped by a Smith three-pointer with just over two minutes left in the half.
The Crimson took a 27-24 lead into the break and opened the second half increasing the lead to five, 29-24, on a Kyle Casey layup 24 seconds into the period. But a Gaston three-point play and Smith three-pointer gave the Rams a 30-29 lead with 18:39 remaining.
Harvard retook the lead, 34-32, before the Rams scored 12 straight points, led by eight points from Gaston, to take their biggest lead of the night, 44-34, following a Gaston put back with 12:19 left on the clock.
The Crimson whittled away a the Fordham lead, cutting it to three, 46-43, on a Oliver McNally three-pointer with 6:59 remaining, but Smith halted the Harvard run with a three-pointer 26 seconds later to give Fordham a 49-43 lead.
But Harvard managed to tie the game at 50 on another McNally three with 3:28 left before Gaston gave the Rams the lead for good, 51-50, hitting one of two free throws with 2:56 left.
The Rams held the Crimson to shooting just 36.4% (20-55) from the field on the night and 26.7% (8-30) from behind the arc (Harvard entered the game shooting 46.2% from the field and 37.9% from three-point range). Conversely, Fordham shot a season-best 48.8% (21-43) from the field, including a sizzling 50.0% (6-12) from long distance.
The Rams will return to action on Thursday night, January 5th, as they open their Atlantic 10 season by traveling to Amherst, Massachusetts, to face the University of Massachusetts Minutemen in the Mullins Center at 7:00 p.m.
Notes
Gaston's 18 points brings his career total to 1,168, good for 21st place on the Fordham all-time scoring list… He is ten points behind Jermaine Anderson (2002-06) for 20th place… Gaston has netted double figures in scoring in 12 of the 13 games this year… Gaston's ten rebounds bring his career total to 780, placing him in eighth place on the Fordham career rebounding list… He is 21 behind Damon Lopes (1988-91) for seventh on the list… Gaston has pulled down double digit rebounds in 12 of the 13 games this year… Kervin Bristol's seven rebounds bring his rebounding average over the past ten games to 9.3 rpg… Bristol also swatted two shots tonight to bring his team-leading total to 28… Frazier tied his career-high with the eight assists, first set at Santa Clara last year… Smith's 22 points was a season-high, surpassing his previous best of 19 versus Colgate… His five three-pointers were the most for a Ram in a game this year… Fordham won for just the second time this year when getting outrebounded (31-30)… It was Fordham's first win in the month of January since 2009… The Rams now lead the all-time series with Harvard, 8-3… There were at least three people at the game tonight who were also in the Rose Hill Gym the last time Fordham defeated a ranked team: Roger Rooney, Fordham's official statistician; Charlie Elwood, who is current the Director of Athletic Administration at Fordham who kept the scorebook as the manager of the 1977-78 team; and John Cirillo, who called the game for WFUV… WFAN's Boomer Esiason and MSG Network's Spero Dedes, a Fordham alumnus, were in attendance at tonight's game.