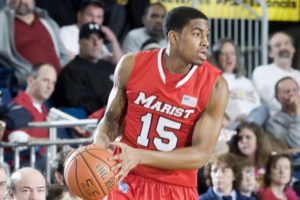 POUGHKEEPSIE, N.Y. – A strong second half of play in which Marist outscored Saint Peter's (2-12, 1-2 MAAC) by 16 points led the Red Foxes (7-7, 2-1 MAAC) to a 71-67 win at the McCann Arena on Monday evening. Red-shirt sophomore Anell Alexis (Hillsborough, N.J.) led a trio of Red Foxes in double figures with the team's first double-double of the 2011-12 season.
Offense was at a premium for Marist in the first half as the defending MAAC Champions were successful in limiting the Red Foxes to 27.6 percent (8-29) shooting and causing nine turnovers. Alexis, sophomore Adam Kemp (Sherrill, N.Y.) and freshman Chavaughn Lewis (Queens, N.Y.) kept Marist afloat with their 19 combined points on 8-13 shooting.
On the strength of their defense and 46.4 percent (13-28) shooting, the Peacocks held a 12 point lead at halftime, 33-21.
The second half was a completely different story for the Red Foxes as they used a complete team-effort and points from all nine players, who got minutes in the final period, to charge back and earn the victory.
After four minutes of back and back forth with Marist cutting just two points off the halftime deficit, the Red Foxes scored 13 straight from 16:19 to 11:26 to take a three-point lead at 44-41. Sophomore Jay Bowie (Tampa, Fla.) was the fourth Red Fox to score during this run and capped it with three points from a converted "and one."
With the Peacocks on their heels and Marist with the momentum both teams put forth great effort and gave the fans at McCann a physical and hard-nosed playing exhibition over the final 11 minutes.
Following a trey by Saint Peter's Lamin Fulton tied the game at 44 with 11:10 remaining, the teams tied another six times through the 2:51 mark. During this span neither team was able to pull away by more than four points.
With the game tied at 58-58 and 2:51 left to play, the Red Foxes put Saint Peter's away on the strength of an excellent 12-13 showing from the foul line. The play that gave Marist their largest lead and strongest reaction was a put-back lay-up by Pieter Prinsloo (Johnannesburg, South Africa) with less than 40 seconds to play.  The sophomore center outleapt multiple Saint Peter's defenders to get Devin Price's (Inglewood, Calif.) missed shot, then scored the basket and drew a foul. His successful conversion at the line gave the team a five-point advantage that would provide sufficient as the Red Foxes held on for a 71-67 win.
Alexis was the top rebounder with 11 boards and shared top-billing in the points category with Lewis at 14 a piece. Besides points and rebounds, Alexis filled up the box score with two assists, a steal, a three-pointer and a block. Kemp also registered a double-digit point output with 13. He added seven rebounds and a team-high two blocks.
As a team, Saint Peter's outshot Marist from the field at 39.3 (22-56) to 36.4 (20-55), but the Red Foxes made up the differential with a 28-35 (80.0) game from the free throw line compared to the Peacocks 69.6 (16-23) conversion rate. Of note, Marist shot 46.2 (12-26) in the second half.
The team will next be in action in Lawrenceville, N.J. on Friday, Jan. 6 as they take on Rider. The contest is scheduled to begin at 7 p.m.