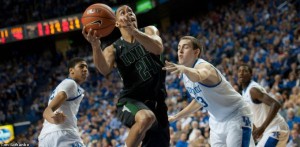 All that is good with Metro-Atlantic Athletic men's basketball.
Etherly, Anosike and Andujar nab weekly honors
Etherly led the Greyhounds to a 72-67 victory over Bucknell University on Wednesday, a win that snapped the Bison's 18-game home-court winning streak. The junior forward scored 10 of his team-high 18 in the second half as Loyola topped the Preseason Patriot League favorite. Etherly led Loyola as well with eight rebounds, as the Greyhounds outrebounded Bucknell, 36-25. He matched his career-high with four assists and was one off his career-best with a season-high four blocked shots. Late in the first half, Etherly scored four straight points to help Loyola take a four-point lead at the break. In the second half, he hit the second 3-pointer of his career to put Loyola up five, and he made 5-of-6 free throws down the stretch to help the Greyhounds overcome a three-point deficit in the final five minutes.
Read more…

Saints pull a stunner
Short-handed? No problem. Not with the way the Siena Saints played defense on Wednesday night.
OD Anosike scored 17 points and grabbed 13 rebounds, Evan Hymes and Kyle Downey each scored 14 and Siena held Florida Atlantic to just 21 points in the second half to beat the Owls 67-60 – the team's second straight win and a surely needed boost heading into a conference showdown against Iona at Madison Square Garden on Jan. 3.
"I just think everybody on the team has the will to win," Hymes said. "Even though we're short, everything that's happened to us this year with all the injuries, we just persevere. We came through and we played tough in this game."
Maybe it was the unseasonably cool weather in South Florida. Maybe it was the pregame speech from legendary coach Rollie Massimino, a longtime friend of Saints coach Mitch Buonaguro. Maybe it was the amusement Siena found from having the school's name listed as "Sienna" on the scoreboards before the game.
Iona and Siena Garden Party
The Iona College men's basketball team (10-3, 2-0 MAAC) kicks off the 2012 portion of its schedule and reopens MAAC play against Siena (5-7, 0-2 MAAC) at Madison Square Garden tonight.  The Gaels complete their nine-game stretch away from the Hynes Center and look to rebound from a tough loss at Hofstra last week.
Anosike wants a Garden Party
Anosike turns 21, today and hopes to be celebrating at the world's most famous arena, when Siena takes on Iona, in a Metro Atlantic Athletic Conference game, at Madison Square Garden.
Anosike, who hails from Staten Island, expects as many as 50 friends and family, in attendance for tonight's game.
"MSG is the mecca of basketball," he said. It's a legendary venue."
The game is slated for a 9 p.m. start, but will follow the St. John's home game, against Louisville, which begins at 7 p.m.
 Tops in the country
Niagara guard Juan'ya Green went into Monday night's game at Loyola (Md.) ranked first among freshman and 15th overall in the nation at 20.1 points per game.
Following Monday's win at Loyola, Green has 300 points and appears a shoo-in to exceed the freshman production of Juan Mendez (316) and Tyrone Lewis (353), who rank Nos. 2 and 3 on Niagara's all-time scoring list.
A deeper look at Iona's assists
Last night Iona dominated William & Mary in a wire-to-wire 83-65 win. The Gaels shot 32-62 (51.6%) from the field and had 21 assists in the game. (Ironically, they shot 16-31 in both halves.) I looked into Scott Machado's assists in last night's edition of the Assist Tracker. But I'm reposting that paragraph here because I want to look at him and his teammate Lamont "Momo" Jones side by side.
New York Mid-Major Non-Conference Teams
Defense Player of the Non-Conference: Rhamel Brown, Manhattan (So., F) — As part of the Jaspers' rotation Brown averages 4.8 rebounds and 2.6 blocks per game for Manhattan. Those averages might not seem too impressive, but Brown is only playing 18.4 minutes per game. Brown leads the nation in block percentage at 16.8%. Kentucky's super-freshman Anthony Davis is second at 15.2%. Playing in the back of the Manhattan press Brown allows guards to be aggressive with some peace of mind knowing that the bouncy 6'6″ sophomore will be there to clean up the mistakes.

Machado adds a Henson
BOSTON (MA) — After helping Iona to the second-best start in school history, Scott Machado earns the Lou Henson Award mid-season honors.
The 6-foot-1 senior leads the nation in assists (10.1) and has record seven double-doubles this season including a 10 assist – 10 rebound effort in a win over William & Mary. Iona's career-assist leader has had some impressive performances this season, including 15 assists and just 2 turnovers in a road win over Richmond and 15 assists and no turnovers in a win over Maryland.
Jaspers run out of time in comeback bid
RIVERDALE, N.Y. – The Manhattan men's basketball team could not dig itself out of a 24-point deficit as the Jaspers dropped an 88-77 decision to Rider (4-11, 1-2 MAAC) on Monday at Draddy Gymnasium. Jaspers' senior guard Kidani Brutus scored a team-high 19 points with five 3-pointers as Manhattan (9-6, 2-1 MAAC) endured its first conference loss of the season.
New Year's Predictions for MAAC Teams
IONA: No more nights off like its most-recent game, a loss at sub-.500 Hofstra. Games like that serve as a reminder of how hard a team needs to play. The expectation here is great, a potential 18-0 conference record.
FAIRFIELD: A season of transition as new players continue to find chemistry with returnees and everyone adjusts to a new coach, resulting in its best play down the stretch and…
Some Eye-Catching Non-League Results
The interest goes beyond a team that uses just six players (Siena) beating an expected contender from the Sun Belt Conference, on FAU's home court for two reasons.
First, FAU coach Mike Jarvis did a Rex Ryan imitation before the game, getting quoted saying this: "I think we should get a win," Jarvis said Tuesday to Owl Access, a website which covers Florida Atlantic. "I think we should beat Siena at home. So it's very important that we get a win. You should beat the teams you are supposed to beat. We are suppose to beat Siena at home. We're a better team than they are."
Former Fairfield star Joe DeSantis
Buy or sell
Gaels' loss at Hofstra last week put them further out of at-large range. But with the nation's assist leader, Scott Machado, at the helm, they remain the favorite to win the MAAC.
Siena's Anosike: "We're the Cadillac program"
LOUDONVILLE – Siena junior forward O.D. Anosike, while complimenting MAAC preseason favorite Iona, made it clear that he still feels the Saints are the preeminent program in the conference.
Iona (10-3) and Siena (5-7) meet at Madison Square Garden on Tuesday.
"Iona, obviously, being in my opinion one of the top 35 or 40 teams in the country, we want to go there and show them that we mean business…
Got any MAAC news to add to the Press Break? Please post it below in a comment.