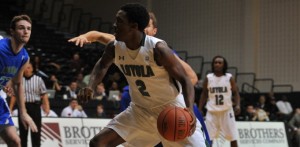 Courtesy of LoyolaGreyhounds.com
BALTIMORE – Loyola University Maryland rallied form a one-time 12-point deficit to go ahead by four on an Erik Etherly fast-break dunk with 3:25 to play, but Niagara University held the Greyhounds scoreless from that point until the final buzzer, and the Purple Eagles came back for a 66-61 Metro Atlantic Athletic Conference victory on Monday night in Reitz Arena.
Juan'ya Green made a three from the top left of the perimeter after Scooter Gillette grabbed an offensive rebound and kicked out a pass with 2:06 on the clock, pulling Niagara (6-9 overall, 1-2 MAAC) within a point, 61-60.
The Purple Eagles then took the lead when Antoine Mason pulled down an offensive rebound and went the length of the court, laying the ball off the glass with 61 ticks remaining.
Dylon Cormier missed a layup for Loyola (9-4, 2-1) on its next possession after driving the lane, and Mason got the rebound with 30 seconds left. Green was fouled and made both free throws to put Niagara up three with 25 seconds on the clock.
Loyola played for the last shot, but an Erik Etherly three from the corner went off the mark, and Green corralled the rebound and was fouled, making both from the charity stripe to seal the game.
The Greyhounds led in the game's early going, taking a 15-13 advantage when Justin Drummond converted a traditional 3-point play, but Niagara scored 15 of the next 17 points to lead 28-17 on a Ameen Tanksley three with 8:01 left before halftime.
Mason made it 30-18 with 5:24 in the first on a fast-break layup, but Loyola pulled back within just over three minutes later before the Purple Eagles scored the half's last six points.
Loyola started the second half quickly, and Drummond tallied two of his game-high 23 points on a layup with 15:34 to play, cutting Niagara's lead to 40-37.
Robert Olson took a give-and-go from Erik Etherly and laid it off the glass with 12:05 remaining, making it a 43-42 Purple Eagles' lead.
Shane Walker made 1-of-2 at the line the next time down the court for Loyola, tying the game, and after a Josh Turner layup momentarily put the Purple Eagles back on top by two, Anthony Winbush made a three from theleft side to give Loyola its first lead in more than 22 minutes.
Niagara regained a one-point advantage on a Tanksley 15-foot jumper with 9:01 left, but Drummond made a three with the shot-clock expiring on Loyola's next possession to put the Greyhounds in front, 49-47, with 8:25 left.
Loyola held a lead of between one and four points for the next three minutes, but Mason made a three for Niagara with its shot-clock at one with 4:53 left, pushing the Purple Eagles back on top, 56-55.
Drummond responded with a dunk off a Winbush assist, and Walker made a pair of free throws to put Loyola up three, 59-56, with 4:21 in regulation. After Green went 1-of-2 at the line, Etherly's dunk gave the Greyhounds' a four-point lead.
Drummond led all players with 23 points and nine rebounds, and Cormier added 14 for Loyola. Walker had eight points and eight rebounds.
Green tallied 18 for the Purple Eagles, while Mason added 17, and Tanksley had 15.
Loyola continues home MAAC action on Thursday night when it hosts Manhattan College at 7:30 p.m.